Bachelorette Party Veil Comparison Test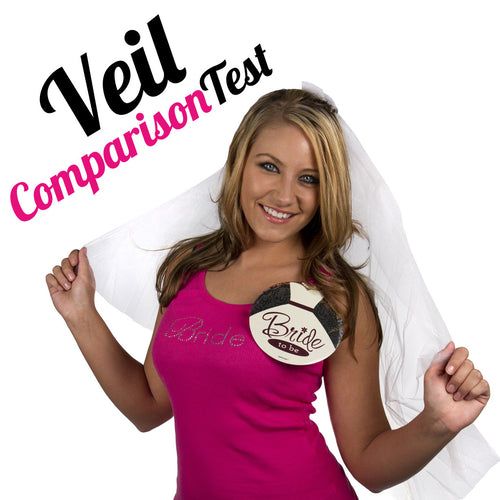 Executive Summary
Find out which bachelorette party veil is best for the bride to be. Bachelorette.com's bachelorette party veil comparison test gives you great advice.
Quick Facts
Should you go clean or buy a naughty veil?
Which veils are the best quality?
Which veil is the best value?
Find out here!
Bachelorette Party Veils Reviewed
Are you wondering what kind of veil to purchase for your bachelorette party? Should you choose something simple and white, or red and gaudy? This is a comprehensive guide to the veils sold on Bachelorette.com.
Question #1: Clean or Dirty?
While convincing your friend to wear the Penis Veil may sound like a good idea, you might have more fun playing games, sharing stories, and even drinking while the bachelorette wears an elegant, refined veil. Buy a dirty veil for your friend if you plan to have a crazy night out at the bar, or if you're seeking revenge for the time she made you wear one. We suggest you choose a clean, simple veil, or buy two--a classic white veil for the sober bachelorette, and a bad girl veil for the bachelorette after she's had a few drinks.
Question #2: What Makes a Top-Quality Veil?
We say: The Materials. The first thing that makes a top-quality veil is the amount and type of material. Tulle (pronounced "Tool") is the material used for all of the veils that we sell on Bachelorette.com. Tulle is a net of material that can be fine or coarse. Finer tulle looks much lighter and flows better than coarser tulle. Coarser tulle resembles white fishnet. Finer bridal veils are made from cotton or silk tulle, while the inexpensive veils we sell are always made from nylon.
Question #3: What To Wear?
We say: Besides bachelorette party veils, Bachelorette.com also sells tiaras, headbands, hats, and even devil horns. So what should you purchase for your friend? We suggest a veil or tiara. It is actually possible that she can wear both. Many veils attach using a barrette and clip to the back of her hair while the tiara can be worn around the front of her head.
Our Blue Diamond Bachelorette Party Veil:
This veil is made with 1 full yard of fine tulle. Attached to the tulle are delicate shiny diamond ring logos. This veil affixes to hair using a barrette. This veil is sophisticated and very reasonably priced.
Our rating: 7
. Our Bachelorette Party Veil is top-quality…there's no doubt about that…but bachelorette parties demand less conventional and conservative, and more crazy and comical. For the price, though, this veil is a great deal.
Flashing Penis Veil:
"Who's that girl over there? Next to that cute guy that looks like Brad Pitt. Here, stand right here. Do you see her? She has this Flashing Penis Veil on her head. Look, the tulle is flowing and full, and on it are a bunch of flowers, and pearls, and even 8 little peckers that light up! I guess it's attached to her hair with a barrette. Will you get me one for my bachelorette party?"
Our rating: 7
. Girl, you will be the talk of this town with the Flashing Penis Veil on your head. This veil is made from fine materials, but costs a bit more than the other veils due to the electrical equipment. People will flock to the bachelorette who sports this bridal hair-ware.
Little Bit Naughty Veil:
Looking for an R-rated bachelorette party veil? Well, this naughty veil is just the ticket. It has reflective little penises on it. Lots of them too.
Our rating: 6
. It is a little bit silly, a little bit ugly, but after a few drinks at the club, the penises will be reflecting lights like some sort of perverted disco ball, then you will be having a night that everyone can remember.