The Bachelor Party Pledge - Free Download!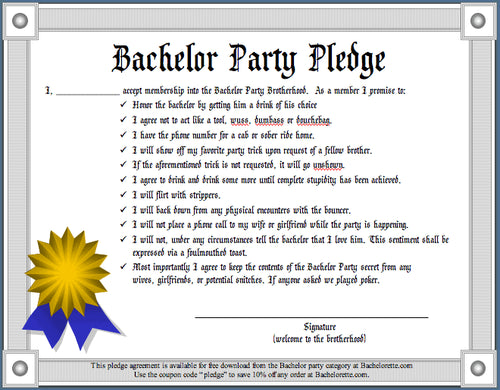 Executive Summary
The Bachelor Party Pledge is a free download that guarantees an awesome night out.
Quick Facts
The Bachelor Party Pledge
A free download from Bachelorette.com
The Bachelor Party Pledge
Bachelor Party planning is something we are really good at. Unfortunately, we have found that most people do not plan bachelor parties far enough ahead to order products from us. Usually, a bachelor party is less formal and more raunchy than a bachelorette party.

So, if you are a last-minute bachelor party planner, here is a free, immediate item that you can have free of charge. It is a downloadable bachelor party pledge. You can print one for each person or just print one copy and have everyone sign it. Either way, it provides guests with a good idea of what is expected of them at the bachelor party.