How To Plan A Bachelorette Party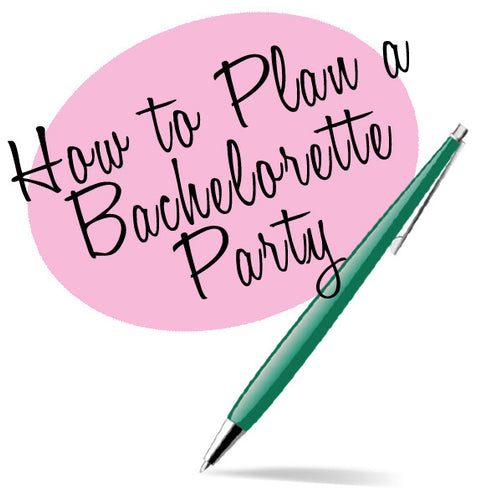 Executive Summary
Quick tips on planning the perfect bachelorette party for you and your friends.
Quick Facts
Advice on what to buy
What to avoid
Where to spend your money
Honest advice from the experts at Bachelorette.com
Plan a Bachelorette Party
I'm going to help you plan a great bachelorette party. How do I know? Well, to start, I've helped plan thousands of bachelorette parties. I'm also the buyer here at Bachelorette.com so I have seen everything we sell. I know what will be fun and what is just OK. I'll try to help you as quickly as possible.
For starters, check out the Bachelorette Party Kits. We put a lot of effort into picking out some great items and putting them into kit form. Ordering a kit saves you money, saves you time, and makes sure you get some great stuff for the the party.
If a kit doesn't fit your bachelorette party plan, don't worry, your next stop should be a trip to our best-sellers category. You could buy everything you need for a party from this one page, and you would be wise to do so. These are the best of the best products we carry. It is all killer, no filler.

Still not finding what you want? You can browse around or use the search bar. You'll find over 600 different bachelorette party items on our site. If the pages of products seem a bit crazy for you, use the "sort by" feature to sort them by type, name, price, or (my favorite) by raunchiness.
Some further tips on planning a bachelorette party:


Send out formal invitations if you can. This will get the crowd excited and the party will be more fun. We aren't saying this just to sell you invitations, in fact, we believe so strongly that invitations are a great item that we have free downloadable bachelorette party invitations you can print out and send today.


Make the bride feel special. Some type of dress-up item seems appropriate. Tiaras and Sashes are really popular; so are veils, hats, and all sorts of fun stuff.


Get a trinket for all of the girls. If everyone is wearing the same thing, you'll create an amount of solidarity. You don't need to buy everyone t-shirts, but some rings or bracelets will be a fun touch.


If you are partying at home, decorations, plates, cups and stuff are fun.


If you are going to the bar, maybe you should consider some bachelorette party items that flash or glow in the dark.


Almost every party needs penis straws. We prefer the rainbow colored ones because they seem the most silly. We also like giant penis straws but they are so big they tend to knock over your drink. We sell other crazy glasses and mugs but penis straws outsell everything else combined.


Penis lollipops and candy are really popular too. People love to stick a candy penis in their mouth. Honest!


While some folks buy bachelorette party favors and bachelorette gifts, it doesn't seem necessary to me. Think about it: there are plenty of wedding and bridal shower gifts and favors flying around. I don't think the bachelorette party needs them, but if you want a gag gift for the bachelorette, we have tons of them.


A giant inflatable penis or an inflatable guy doll is a good bet for a wild bachelorette party.


You are also going to need some drunken activities for the evening. That is where our section of bachelorette party games comes in. This is a great section to use the "sort by raunchiness" feature.



Finally, choose a shipping method that will guarantee your package arrives in time. Bachelorette party merchandise that arrives the day after the party is a downer. You want to be sure your stuff arrives with plenty of time to spare, honest! Disclaimer: We don't make any extra money on the faster shipping, we just know that customers are happier when their package arrives on time.




Thanks for reading.