Pin The Macho On The Man - How To Play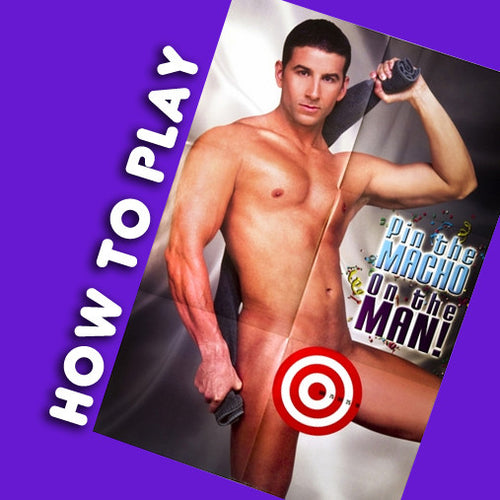 Executive Summary
Our best party game is Pin the Macho on the Man. Learn how to play it!
Quick Facts
Pin the Macho on the Man
One of the best bachelorette party game
Play it at your party
Pin the Macho On the Man
Pin The Macho On The Man is the most popular bachelorette party game that we sell on Bachelorette.com. On this page we will show you how to play Pin The Macho On The Man. We really like this game and think that it is the best game for a bachelorette party.

When you open the package, you will have two giant sheets of paper. One has the Macho Man on it. Hang that one on the wall with tape or push-pins. The other sheet has a bunch of penises on it, but not real penises! That would be gross. It has 25 cartoon penises printed on it.

Cutting out the penises from the sheet of poster paper can be a drag, but if you have a comfortable place on the ground and a tiara, it makes the process so much fun. I love planning bachelorette parties, but why is it that in every picture I am mutilating penises with a knife or scissors? I guess it is because I have a fun job and a chip on my shoulder.

Once you cut out the penises, each friend can pick one and put her name on it. Let the pinning of the macho man begin.

Let each girl attempt to pin the macho on the man. Give her a shot (okay, that's not required, but it's fun), blindfold her, spin her around in a couple of circles, and lead her over to the poster. Whoever gets closest to pinning the macho on the man wins!

Check out our Here Comes the Bouquet Game for a family-friendly spin on the game.

What You'll Need
Pin the Macho on the Man
Scissors
Pens
Tape
Pushpins
Blindfold
Drinks
Bachelorette parties are most fun when people do stupid stuff. Since you happen to be here reading this website, we figure that YOU are the person who will be making her friends perform crazy stunts at the bachelorette party. What stunts will you make them do? How about reading dirty jokes and poems? 15 of the macho man penises have a dirty poem written on them. Make your friends read the poems aloud to everyone before they begin.

My penis (the paper one, not a real penis--that would be gross) was called "chocolate thunder." It said, "Here's one for the bachelorette, full of lust and desire, she can use CHOCOLATE THUNDER to put out her fire!"

Next, blindfold your friend and spin her around 5 times or so. Aim her toward the Macho Man poster and let her go.