The Silly String Squirt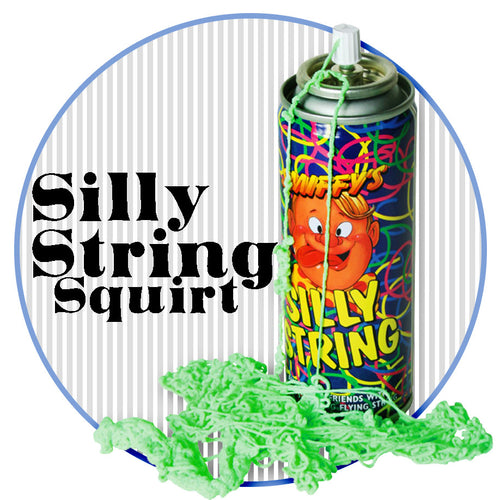 Executive Summary
Use Silly String to pretend you can "write your name in the snow." This is a fun game that's great to play when you're tipsy.
Quick Facts
Bachelorette Party Silly String Game
Uses paper plates and Silly String
Take turns and see who writes best!
The Bachelorette Silly String Game
Supplies Needed:
For each participant, you will need a 1/2 can of Silly String and a paper plate.

This game simulates guys peeing in the snow. Who hasn't been jealous of this talent? As a girl, peeing outside is never what it's cracked up to be. Even if you've managed to squat perfectly and pee straight down the entire time, there's always that trickle at the end that threatens to pour down your leg.

The object of the game is to get as much silly string as possible onto the target, a paper plate. The catch is, you have to do it by holding the can of silly string between your knees, as if it were your (extra-girthy) penis. You are only allowed to touch the top of the can with one finger to push the spray button. Each person has ten seconds to spray the plate with as much silly string as possible. You can even try to write your name after some practice!

The game works best if you put the paper plate about 8 feet away from where each participant stands.

You can play this game with each player taking a turn, or you can all let loose at the same time. If you play one at a time, lift up the person's plate and have them hold onto it until the "judging." The bachelorette can judge who has the most silly string on their plate.

The Silly String Squirt is fun to play, and doesn't require a ton of supplies. The girls will look like guys peeing in the snow as they spray the silly string. Remember to take some pictures to capture the moment.