Free Bachelorette Party Game - 20 Questions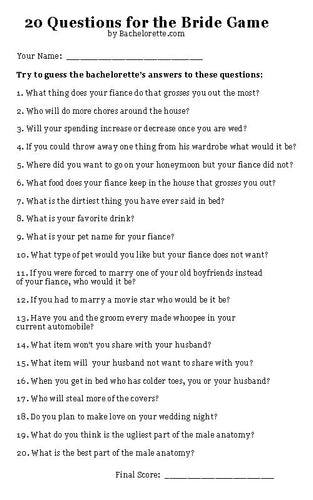 Executive Summary
A silly game of 20 Questions About the Bride. Pass this game out to all your guests and reward the winner!
Quick Facts
20 Questions About the Bride
A Free Game
Great for a bachelorette party or bridal shower
20 Questions For the Bride
Here is a fun bachelorette party game anyone can use. Bachelorette.com provides it free of charge so that you have a great time.
Supplies Needed: Photocopies of the game and pencils or pens for all of your guests.

Click on the image on this page. The website will show you a larger version. Print it out (use the File Menu and then select print). Print or make a copy for every guest. Hand the 20 Questions out at the party to all of the girls. Give one to the bride to fill out as well.

When your guests are done writing, remind them to write their names on the top of their papers. Collect the papers. Now, hand them out again, but to different people so that no one "grades" their own paper. Have the maid of honor ask the bride each question to figure out the right answers.

This game is a lot of fun. Inevitably, the questions will get lots of wrong answers. This game is meant to be silly and hilarious.

This free game is a Bachelorette.com exclusive. It includes questions the party guests will have a great time getting right and getting wrong. A few examples:


What thing does your fiance do that grosses you out the most?
If you could throw away one item from his wardrobe what would it be?
Who will steal more of the covers?
Just click on the photo above, drag it out to enlarge it to full size, and print copies on your printer. Enjoy!