Bachelorette Party Veil & Tiara Guide - Our Opinions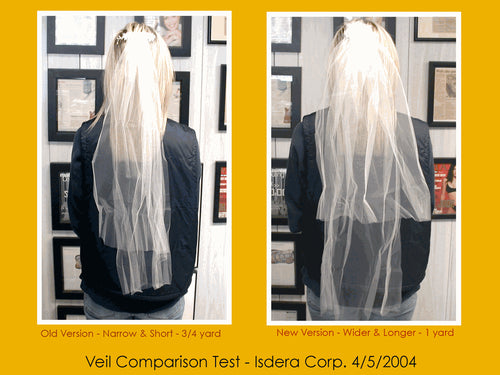 Executive Summary
A fun veil is the best way to identify your bachelorette as the lucky bride-to-be. Read our opinions to find the best veil for your party.
Quick Facts
Best veils for the bar
Best veils for her hairstyle
Highest quality veils
Our Best Bachelorette Party Veils
Are you wondering what kind of attire to purchase for the bachelorette party? This is a comprehensive guide to the veils, tiaras, and hats sold on Bachelorette.com. Our main focus will be on bachelorette party veils because they are the most popular bachelorette party accessory, but we will mention several tiaras and headbands, as well.
---
First Question: Clean or Dirty?
We say: Go Clean! While convincing your friend to wear the Penis Veil may sound like a good idea, you'll both have more fun playing games, sharing stories, and even drinking while the bachelorette wears an elegant, refined veil. Besides, anything with condoms or flashing peckers on the bachelorette's head will just make her look tacky. The only time to buy a dirty veil for your friend is when you're seeking revenge for the time she made you wear one. So, we suggest you choose a clean, simple veil, or buy two--a classic white veil for the sober bachelorette, and a bad girl veil for the bachelorette after she's had a few drinks.
---
Second Question: What Makes a Top-Quality Veil?
We say: The Materials. The first thing that makes a top-quality veil is the amount and type of material. Tulle (pronounced "Tool") is the material used for all of the veils that we sell on Bachelorette.com. Tulle is a net of material that can be fine or coarse. Finer tulle looks much lighter and flows better than coarser tulle. Coarser tulle resembles white fishnet. Finer bridal veils are made from cotton or silk tulle while the inexpensive veils we sell are always made from nylon.


---
Third Question: What To Wear?
We say: Besides bachelorette party veils, Bachelorette.com also sells tiaras, headbands, hats, and even devil horns. So what should you purchase for your friend? We suggest a veil or tiara. It is actually possible that she can wear both. Many veils attach using a barrette and clip to the back of her hair while the tiara can be worn around the front of her head.
---
Here are some of our favorites:
The Standard Bachelorette Party Veil
:
This veil is made with 1 full yard of fine tulle. It uses a simple barrette attachment and looks sophisticated. This veil is very reasonably priced. A big improvement upon our previous model, any bride-to-be will appreciate this standard bachelorette party veil.
The Little Bit Naughty Veil
:
This veil is the perfect balance between classy and naughty. From a distance, it just looks like a normal, elegant white veil. But when you get up close, you'll see that there are dozens of shiny penises hiding in its folds. Perfect for a bachelorette with both a naughty and nice side!
The Bachelorette Tiara:
One of Bachelorette.com's most popular items, the silver Bachelorette Tiara will make any bride-to-be feel like a princess. This tiara is metal and feels like a true tiara, but it doesn't sparkle very well. Based on sales, we can say that the Bachelorette Tiara will be a huge hit.