Free Bachelorette Party Game - Bachelorette Crossword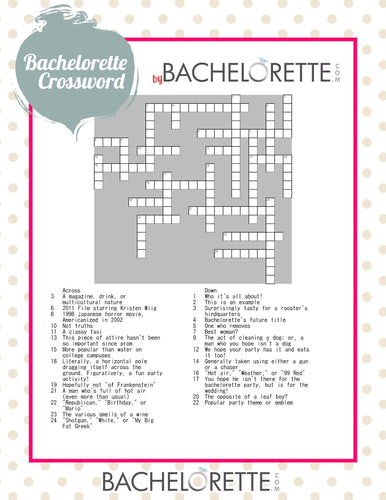 Executive Summary
The Bachelorette Crossword Puzzle is a free game that's great for bridal showers and bachelorette parties.
Quick Facts
Bachelorette Crossword Puzzle
Free download
Good for bridal showers or parties
Bachelorette Crossword Puzzle
Give the girls 5-10 minutes to complete as much of this crossword puzzle as possible using the clues provided and the knowledge that all the words have something to do with a bachelorette party or wedding. When time is up, reveal the answer key. You could give a prize out to the girl who gets the most words correct - like something from our
party favors
section!
Or, you could turn it into a fun drinking game - for every word you get right that no one else does, you get to give out one drink! That will be fun.
Click here to download the
Free Bachelorette Crossword Puzzle
, and click here to download the
answer key.
This free game is a Bachelorette.com exclusive. We hope you enjoy it.