Balloon Questions Party Game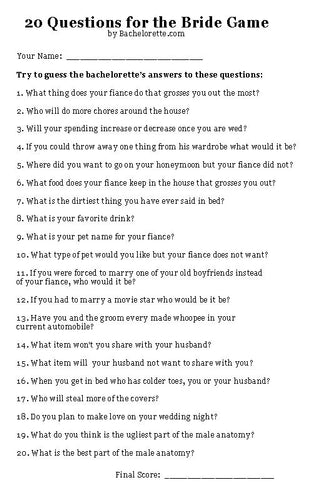 Executive Summary
A 20 questions bachelorette party game that allows you to pop balloons throughout the night.
Quick Facts
Balloon Questions Party Game
With PDF of questions to put in balloons
20 Questions: In Balloons
Supplies needed: Balloons and small slips of paper.
Come up with some really embarrassing questions and write them on small pieces of paper (think fortune cookie size). Then roll it up, put it inside a balloon, and blow up the balloon.
Throughout the evening you can occasionally pop a balloon. The bride will have her choice of answering the question or doing a shot.
We have provided a list of twenty questions here. Click on the small picture and our website will show you a printable-size picture. Cut out each question that you like. You can then roll them up and put them in the balloons.