Free Bachelorette Party Drink Recipe Book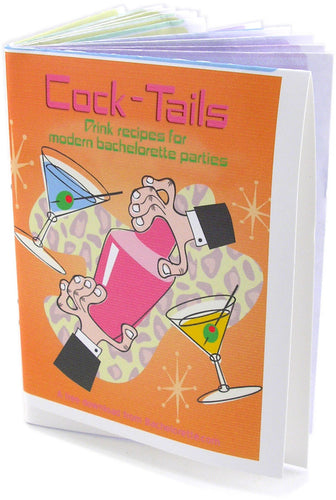 Executive Summary
Cock-Tails: The Bachelorette Party Drink Recipes Booklet shows you how to make all kinds of fun, naughty drinks.
Quick Facts
Bachelorette Party Drink Recipes Booklet
Shots and Cock-Tails
Free Bachelorette Party Recipe Book
Planning a bachelorette party and looking for free drink recipes for it? You have come to the right place. Bachelorette.com has produced "Cocktails" a free, easy-to-print booklet of bachelorette party drink recipes. To download the Cock-Tails Book of Bachelorette Party Drinks - Click Here. Cock-tails contains drink recipes and ideas to make your bachelorette party tons of fun.
Bachelorette.com created Cock-Tails to help women planning bachelorette parties create the wildest "last night out" ever. Bachelorette parties can be difficult to pull together, and every last bit of advice helps. These crazy drinks will make every party awesome.
The Cock-Tails booklet can be downloaded and printed right away, with no obligation whatsoever. It is completely free of charge and you don't have to divulge any personal information. Just print out the six sheets of paper and fold them into a 22 page booklet of great drink recipes and ideas. Cock-Tails is the best booklet of bachelorette party drink recipes in existence and it is completely free!