Free Bachelorette Party Scavenger Hunt - Free Download!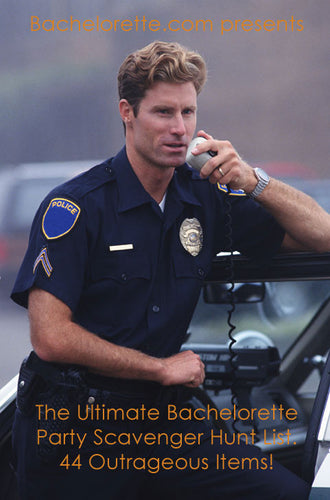 Executive Summary
This free bachelorette party scavenger hunt is a free gift from your friends at Bachelorette.com. Download and print it
here
.
Quick Facts
A bachelorette party scavenger hunt checklist
A great game to play at the bar
A free game from Bachelorette.com
Free Scavenger Hunt Game
Bachelorette Party Scavenger Hunts are lots of fun. Unfortunately, making a list of things to scavenge can be time consuming and annoying. Don't worry, though; Bachelorette.com created a fun scavenger hunt list that you are free to use.
You can download the Bachelorette Party Scavenger Hunt list and then print out lots of copies for all your guests. Your friends will be sure to have fun trying to rustle up all of the items on the list.
We hope this is just one more way that Bachelorette.com can help you plan a great bachelorette party.
Click here to download a copy of Bachelorette.com's Free Bachelorette Party Scavenger Hunt Game.
Bachelorette.com Presents The Bachelorette Party Scavenger Hunt
Who: This is a fun bachelorette party scavenger hunt for the bride and her friends.
Why: If you're looking for a fun bachelorette party game, there's no better one than having a bachelorette party scavenger hunt. People love a great scavenger hunt and we've tried to put together a winner. 

When: We suggest having the scavenger hunt at the beginning of the evening. Starting the night out with a scavenger hunt will really get things going and will provide tons of fun stories for the remainder of the party. For this scavenger hunt, we suggest a time limit of either 2 or 3 hours.  Your guests will find it quite a challenge and the list is long enough that they won't run out of things to collect.
How: Make copies of the scavenger hunt sheets.  Divide your group into teams that will fit in one car each.  Typically this means 3-4 girls but teams of 2 can take their Ferarri and teams of 7 can fit in a minivan. If you have a friend that drives a school bus, she can take 42 people! Ha.  Give at least one copy of the task list to each team.  Completing each task is worth one point, with bonus factors being worth an additional point.  Pick a rendezvous point (like your home or the bar) and a finish time.  Let them go.
During The Hunt: Keep your cell phone on and some bail money handy.  Travel to the rendezvous point and start having fun.  Martha Stewart would have appetizers ready at exactly the rendezvous time.  I would probably just order some buckets of beer and nachos.
After The Hunt: When the time period expires and everyone has met up, tally up the points as you share your stories of this memorable night.  Make sure to have a ridiculous prize waiting for the winners.

Click here to download a copy of Bachelorette.com's Free Bachelorette Party Scavenger Hunt Game.