Hiring A Male Stripper - Advice From The Experts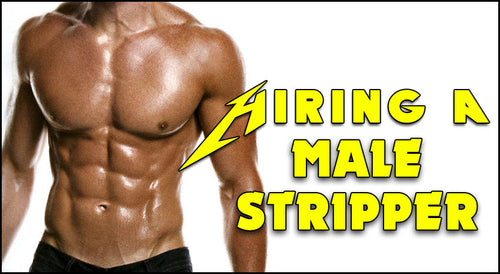 Executive Summary
A How-To Guide that teaches you the ins and outs of hiring a male stripper.
Quick Facts
How to hire a male stripper
Strip Clubs vs. At-Home Strippers
Hiring a Bachelorette Party Stripper
How To Hire And Have The Best Time With A Male Stripper written by the Experts at Bachelorette.com
Here is some advice on making sure you and your friends have the most fun with a male stripper. We'll cover a few topics on this page including when a stripper is appropriate, why you should have one, information about strippers vs. strip clubs, how to find a stripper in your area, and tips on how to approach hiring them.
When is a male stripper appropriate?
If you are planning a party for a friend, you probably already know if she will want a stripper. You should also consider the other people who will be attending the party. If your friend's mom will be there you might want to skip the naked, gyrating man meat. Some women won't be phased at all by the presence of their moms. Other possible buzz-killing attendees could include sisters of the groom, grandmothers, nuns, married folks, prudes, conservatives, and anyone with a heart condition.
What's that?
You have decided to limit the number of invitations you need to send out. Now you will still be able to see a stripper. Great, let's continue.
There are a number of great reasons to see some naked men at a bachelorette party. This will be your friend's last night out. She will probably never again have the opportunity to see, feel, or touch a strange-yet-attractive man for the rest of her life. It is also likely that her groom will begin a slow descent into beer-guttedness as soon as the reception begins. The memory of six-pack abs and firm buns will probably last for many years. Send your friend out with a bang.
One decision you may have to make is whether to hire a stripper or go to a strip club. Here are some pros and cons of each.
Strip Clubs

 

Pros

 

 

Cons

 

Accommodate any size group
Hard to find
They have lots of men
Drinks are expensive
They are entertaining
You will need a driver or limosine
Great people watching opportunities
They may not focus on the bride-to-be

Stripper

 

Pros

 

 

Cons

 

They come to you
Not as many men
Focus is on the bride
You may have to wait until they arrive
Drinks are cheaper
May not last as long
No drunk driving
Other alternatives include dirty magazines (like Playgirl) and dirty movies.
How To Find A Stripper:
The most difficult part of hiring a stripper is finding one. Here is some advice about finding and hiring a stripper. You might be surprised by some of it:
Forget the internet: We find a general search of the internet is crowded with websites for strippers that are not in your area. It is too difficult and confusing to navigate even for internet professionals like me.
A local search is hot: Focus local. Try Yelp or Google's business listings. Here in the Detroit area Strippers are listed under "Entertainers: Adult". In our metro area there are 6 different companies listed.
Figure that if your city has more than 200,000 residents, there is probably a company near you. If you live in a smaller area try looking for Escort Services that have male escorts. Ask if they strip too. Strip clubs are usually listed under "Nightclubs" and are even more difficult to find. There are only two here, in the Detroit Metro area, and we are the 7th largest metropolitan area in the country. If you live in NY, Boston, Chicago, or LA, you might be able to find one. Ask Around - Someone will know someone who has seen a stripper recently. Find out where and when and who to call.
Rural Customers - You have a long journey ahead. You'll either have to travel into town or you'll have to bribe a not-too-shy guy to take it all off. Good luck to you.
A word about alternatives:
I can guarantee that an issue of Playgirl magazine is sure to be a hit. Dirty movies might be a massive flop. I have been to a party where someone rented a dirty movie that featured men with really, really large penises. At first it sounded fun but when the movie started it wasn't exciting at all. The women in the film were really being degraded and the men were not attractive at all. It was completely not sexy. A friend of mine attended a party where they rented some gay porn. They figured that men rented films featuring lesbians why couldn't they have the same fun. My friend went on to say "At first we were like Go! Go! Go get him! But then when they started to do it...it wasn't too thrilling". Although I found my friend's story to be very funny, I am not sure that it made for a great party.
How to hire a stripper:
To hire a stripper to come to someone's house and dance for about 30-60 minutes you should expect to pay $150-$250. If you have 20 women, this price can be fairly reasonable.
If you have located a company, here are a few questions to ask.
Do you have a website where I can see photos of the men?
How much is your rate? How long does that last? Does it include travel to my location?
What will the dancer do? (usually agreed to in # of songs)
What rules are in place that our party should know about?
Will he take off all of his clothing?
Will he come wearing a costume? What choices are there? (Often choices include a cop, fireman, pizza guy, construction worker, businessman, tarzan, etc.)
Will he bring his own music and boom box?
What should we provide?
How do you bill us (all up front, 50% up front, etc.)
Do you have anyone available on this date?
Here are some tips for making sure things go smoothly:
Keep the phone number of the agency handy. Strippers are almost always late. You might have to call to find out where they are.
Be sure to provide them with good directions to the location. The stripper may have a party before yours and after yours. If they can't find yours in a timely manner they may only stay for a short time or may never show up.
Pay with a credit card. This will allow you dispute the charge if the person does not arrive or if the services weren't exactly as you agreed.
Try to get an agreement in writing by fax or mail.
Try to view a picture of them beforehand. Just because they are a stripper doesn't guarantee you want to see them naked.
Book the person fairly early then call a few days before the party to be sure everything is still O.K. Stripper agencies can be a bit flaky, be ready.
We hope that this advice is helpful and that you will use it to ensure that you have a good time at all of the bachelorette parties that you plan. Bachelorette.com: Making strippers easy.