Free Bachelorette Party Game - Marriage Word Scramble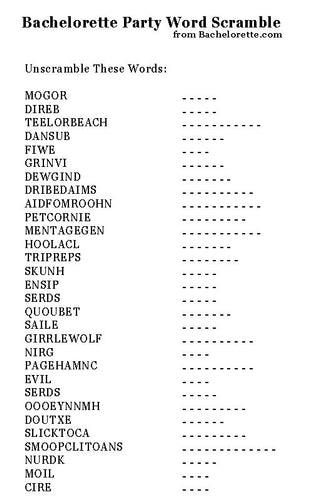 Executive Summary
The Marriage Word Scramble is a free game that's good for bridal showers or family parties.
Quick Facts
Marriage Word Scramble
Free download
Good for bridal showers or parties
Marriage Word Scramble
Scrambled Words is a free, printable bachelorette party game.

Give the guests 5-10 minutes figure out these scrambled words relating to the wedding. The guest that answers the most correctly wins the prize.

How To Print: Click on the picture above and you will be given a bigger version. Then go to: File>Print and print the picture. You can also use the keys (apple-and-P, or control-and-P at the same time) to print the image.

Answers:

Groom, Bride, Bachelorette, Husband, Wife, Virgin, Wedding, Bridesmaid, Maid of Honor, Reception, Engagement, Alcohol, Strippers, Hunks, Penis, Dress, Bouquet, Aisle, Flower Girl, Ring, Champagne, Veil, Dress, Honeymoon, Tuxedo, Cocktails, Cosmopolitans, Drunk, Limo, Rice

This free game is a Bachelorette.com exclusive.