Which Bachelorette Party Doll Should You Buy?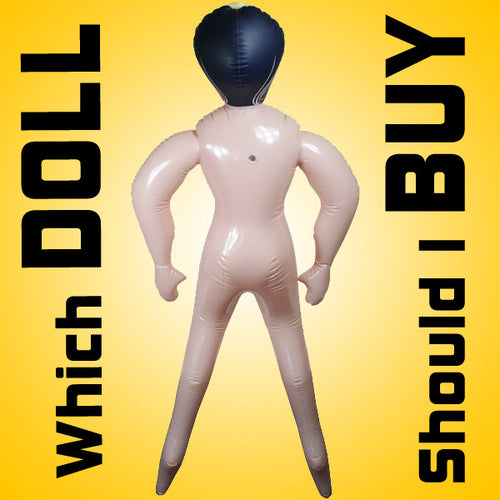 Executive Summary
Which bachelorette party doll is for you? Bachelorette.com's guide to inflatable dude dolls for bachelorette parties.
Quick Facts
Bachelorette Party Inflatables
Which ones will stand up to a beating?
Which ones are the dirtiest?
Our Bachelorette Party Blow-Up Doll Comparison
Which blow up doll should you buy for the bachelorette party? That is a question the experts at Bachelorette.com can help you answer. Unlike other stores that never take their merchandise out of the box, we opened one of each inflatable toy and blew them all up. Our goal was to find you the perfect inflatable doll for your bachelorette party. I suppose there is no correct answer to which blow up bachelorette party doll is the best so we will create a list of what we like and what we don't like. In the end, you should be able to find the perfect blow up doll for your friend.
Here at Bachelorette.com we are not short of opinions and we don't always like every product that we see. Here are our honest opinions.
Our Favorite Products:
Captain Pecker - The 6 Foot Inflatable Penis. This is our true favorite. We like it so much that we always make sure to have it on sale. We like the 6 foot inflatable penis because it's very, very large, not too expensive, and it really looks like a big inflatable penis. The Captain Pecker even comes with a separate chamber at the bottom that you fill with sand or water so that it stands up. So, if you are looking for a great, inflatable bachelorette party doll, you will do well with the Captain Pecker.
The Justin Love Doll. Most bachelorette parties aren't white wine and finger sandwiches. If your crowd is more the type that is craving hot dogs and sausages, the Justin Love Doll is for you. He has a big, vibrating, dildo-style penis, and a "functional" butthole. Um, functional for penetration. We think he looks a little like Justin Timberlake.
Harry The Cheap Date Doll. Our unique purchasing power can bring you a very inexpensive inflatable man. Harry is the cheapest date you could ever want.
---
Products That We Would Pass On:
The Inflatable Black Guy Doll. This one is a little disappointing. Instead of a big, black dildo this inflatable doll just has an inflatable penis. That's not as much fun.
The John "No Holes" Doll. Similar to the Harry doll (above) but more expensive and it has an oddly shaped head. I don't think so. We stopped selling this doll because it wasn't very good.
Construction Man Blowup Doll. Just look at him. That creepily uncanny face. That gaping mouth. That pubic hair, weirdly suggestive of some kind of extraterrestrial venereal disease. This is the stuff nightmares are made of. We also got rid of this doll!